The 2020 Subaru Impreza Presents Louisiana Drivers with a Better Ride than the Competition
Drivers throughout Lafayette and the country are already familiar with the Subaru Impreza. The popular, compact car from Subaru has standard all-wheel drive, a rarity for its class, and it's a chameleon of styles, available in both hatchback and sedan styles to please drivers' individual personalities. At Giles Subaru, we're proud to carry this model for our customers, and we're excited to have the latest, 2020 models in stock for you now.
For 2020, the Subaru Impreza gets a slight exterior design refresh, with new headlights and front grill appearance, and it gets  shuffling of its standard and optional features. Despite the changes, however, longtime fans will be pleased to see this car continues to deliver the style and fun performance they've come to love.
We're big fans of the 2020 Subaru Impreza, and we believe it to be a topnotch investment for any New Iberia or Opelousas driver. But we also know there are similarly sized vehicles out there that may be vying for your attention. Both the 2020 Toyota Corolla and the 2020 Honda Civic are also compact cars that have a variety of style options available. However, we think if you look a little closer, you'll discover a myriad of ways in which our Impreza sets itself apart from the competition.
The Subaru Impreza vs. the Honda Civic

All-wheel drive. Ask any Subaru fan what they're favorite part about our vehicles is and they'll probably tell you it's the Subaru Symmetrical All-Wheel Drive system that comes standard on practically every model. The 2020 Impreza has it across the board, but the Honda Civic doesn't even offer it as an option.
Size and space. Both cars have similar exterior dimensions, although the Impreza is a little taller than the Civic. On the inside, this translates to more space for you, with the Impreza giving you and your passengers more headroom in both the front and backseats, and more front seat legroom.
Customization options. Like bright colors and a contrasting interior? How about a subdued, sophisticated exterior with a matching interior? Whatever your personality dictates, the Impreza is ready to fulfill your wish. The 2020 Subaru Impreza has a range of nine exterior color options and two interior options. The Honda Civic, on the other hand, has just one interior possibility and four exterior colors available.
The Subaru Impreza vs. the Toyota Corolla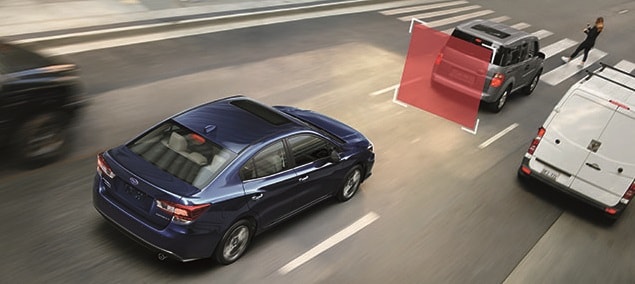 Comfort. The Subaru Impreza offers a lot of more interior space and comfort, with more than what you'll get with the Toyota Corolla. Not only does the Subaru have more headroom, legroom, and elbow room in the front seat, it also delivers more rear seat room as well, with four inches of extra shoulder room compared to the Corolla, two inches of added legroom, and a little more headroom.
Standard power. The 2020 Subaru Impreza starts you off with 152 horsepower from its base 2.0-liter flat-four engine, while the Toyota Corolla base power offers just 139 horsepower from a 1.8-liter four-cylinder engine.
Standard features. Both cars have a nice assortment of standard amenities for connectivity and safety, with a large variety of optional features available. But the Subaru Impreza gives drivers more. For example, every Impreza model, starting at the base trim, has standard Android Auto and Apple CarPlay smartphone integration., while the Toyota Corolla doesn't offer Android Auto even as an option in its lineup.
Meet and Test Drive a 2020 Subaru Impreza near Lake Charles and Alexandria
The best way to see for yourself all the reasons why we think the Impreza is the best small car around, is to stop by and test drive it for yourself. We're conveniently located for drivers in Alexandria and we look forward to working with you in our sales and finance departments to secure the best Subaru vehicle with the best loan or lease for your needs.